Recent Books by Gordon Leidner: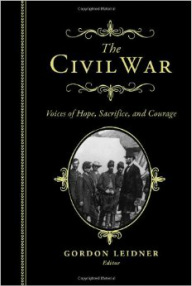 The Civil War: Voices of Hope, Sacrifice, and Courage


"Those who deny freedom to others deserve it not for themselves...."-President Abraham Lincoln


The third title in Gordon Leidner's successful series, The Civil War: Voices of Honor, Sacrifice, and Courage captures the essence of this bloody and inevitable conflict through the insights, inspirations, and wisdom of those who lived it. Featuring more than 220 quotes from both Union and Confederate soldiers and civilians, as well as excerpts from some of our country's most enduring speeches, The Civil War documents the chronology of one of the ultimate turning points in American history.

Editorial Reviews:

"As the nation observes the 150th anniversary of the Civil War, the publication of this toothsome smorgasbord of memorable, revealing quotes from participants in that conflict is especially welcome. Gordon Leidner has judiciously chosen pithy statements by a wide variety of both Union and Confederate generals, common soldiers, political leaders, diarists, legislators, and commentators. It is a worthy companion to Leidner's previous collection, Abraham Lincoln: Quotes, Quips, and Speeches." - Michael Burlingame, Chancellor Naomi B. Lynn Distinguished Chair in Lincoln Studies, University of Illinois Springfield

"The American Civil War lifted every level in American culture, from its music to the agony of its losses. It had the same effect on American words, and Gordon Leidner's handy compendium of Civil War words captures as none else does in its short compass the color, vehemence, sorrow and triumph of that defining event in our history." - Allen C. Guelzo, Henry R. Luce Professor of the Civil War Era and Director, Civil War Era Studies Program, Gettysburg College

"In Leidner's The Civil War: Voices of Hope, Sacrifice, and Courage, one finds a lucid portrayal of the key terms, issues, debates, and concerns that provoked America's greatest crisis: a civil war that would determine the future of American slavery, and therewith the future of freedom in the modern world. To read the words of the diverse array of Americans contained herein is to reflect upon the abiding challenge of self-government, and to pay the highest respect to the tragic efforts of a generation of men and women fighting for the meaning of America." - Lucas Morel, Head, Politics Department, Washington and Lee University


---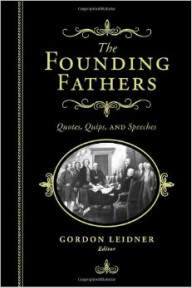 The Founding Fathers: Quotes, Quips, and Speeches

Filled with more than 200 quotes from America's most influential founders, The Founding Fathers: Quotes, Quips, and Speeches captures the essence of the leaders who forged a new country based on their beliefs of freedom and liberty. Discover their thoughts on government, liberty, the people, character, and faith with quotes from George Washington, Thomas Jefferson, Patrick Henry and many others. Every quote is sourced in end notes. Beautiful packaging complete with gold foil adds to the sophisticated feel of this hardcover, making it the perfect gift for any history lover.

Editorial Review:

"History buffs and liberty lovers alike may appreciate this book's pocket-sized format, which makes it easily portable, but with over 200 quotes from America's founders--often referencing God or Christian principles--it packs a wallop. It includes significant documents like the Declaration of Independence and President Washington's Thanksgiving Proclamation. Through short introductions for each chapter ... Leidner offers a concise yet rich history of the Revolution." -World Magazine, August 10, 2013



---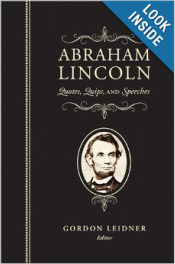 Abraham Lincoln: Quotes, Quips, and Speeches

More than 140 years since his death, the enduring legacy of a great president, an American success story, and the celebrated leader of the Civil War continues. Abraham Lincoln: Quotes, Quips, and Speeches captures the essence of the sixteenth president. In addition to Lincoln's own words, Gordon Leidner includes insights into the man by those who knew him best, from his wife, Mary Todd Lincoln, to his greatest political opponent, Stephen A. Douglas. Every quote is sourced in the end notes. Numerous photographs add to the charm and usefulness of the book.


---
Abraham Lincoln had the God-given talent to express himself in words that the people felt and understood. Leidner's book enables readers to sample and touch the greatness of Lincoln through his letters, public papers, and speeches. Edwin C. Bearss, Historian Emeritus, National Park Service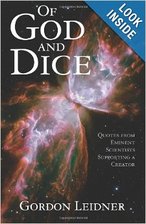 Of God and Dice:
Quotes from Eminent Scientists Supporting a Creator

The "new atheists" say that science has disproven that God was necessary for the creation of the universe. Of God and Dice offers counter-arguments to the atheists' claims through the words of 70 eminent scientists such as Albert Einstein, Max Planck, and Isaac Newton. Written for the reader that wants to consider the "God side" of the science vs. God debate, Editor Gordon Leidner provides nearly 250 quotations of well-known scientists on subjects such as the Big Bang, quantum theory, human consciousness, the Bible, and science's inability to disprove the existence of God. The Editor's introduction to each subject, end notes, and numerous photographs add to the usefulness of the book.


Editorial Review:

"Over 80% of Americans believe in God according to a recent Harris poll. In many ways our culture is antagonistic to these beliefs. This book shows us what many of the accomplished leaders in science have concluded in support of a creator God. Each chapter has a clear and concise introduction followed by short quotes that are thought provoking, yet easily read." --Al Brunsting, author, God is Here to Stay: Science, Evolution, and Belief in God

---